Conductix-Wampfler
Conductor Rails
Conductix-Wampfler conductor rails are the choice of preference for the transmission of power (up to 2000 A) and digital data. Special metal rails are used for the transmission of data. Conductix-Wampfler's electronic Powertrans® system represents an extremely efficient solution that permits reliable data transmission even under difficult operating conditions.

Conductix-Wampfler conductor rails are available with any desired number of poles and in any desired length, and they are designed for simple, easy installation. Rails feature robust construction and are suitable for use in harsh industrial environments. Heavy-duty connective elements guarantee reliable transmission without interruption for problem-free operation.

Current collectors move along three axes to compensate for variations in assembly tolerances and inevitable deviations in travel due to operating conditions. This permits uninterrupted transmission of energy and digital data and keeps wear to a minimum.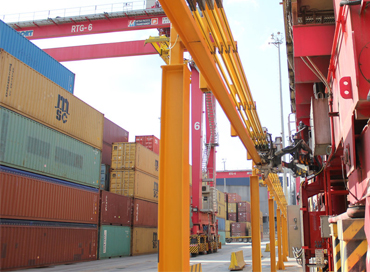 Cable Festoon System
Conductix-Wampfler is the world's leading designer and manufacturer of Cable Festoon Systems with years of experience and comprehensive know-how. We offer a complete range of cable trolley systems to support, protect, and manage flat and round cables for the transfer of electrical energy and data. Hoses are also carried for the directing of fluids, air or gases.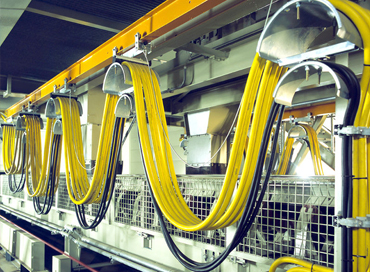 Motor Driven Reels
We have all the latest reel drive technologies available (including Fibre Optic Cables), from simple direct drive units that are switch controlled, to the rugged magnetic clutch reels, all the way to the latest in frequency controlled drive packages. Conductix-Wampfler offers spool types to include bulk wrap, monospiral, 3-2-3 and levelwind configurations. We employ the best quality low voltage or high voltage reeling cables as well as hoses to reliably handle demanding requirements, even under harsh environmental conditions. Conductix-Wampfler motorized reels are tailored to all kinds of applications in ports, steel mills, theaters, for bulk handling machines, aviation cable handling, waste water treatment plants and mines.

As system supplier Conductix-Wampfler offers a complete all-round service to all customers. In addition to the delivery of the motor driven reel we offer qualified consulting, project engineering of the complete system, selection of the right cable, and the optimal accessories.